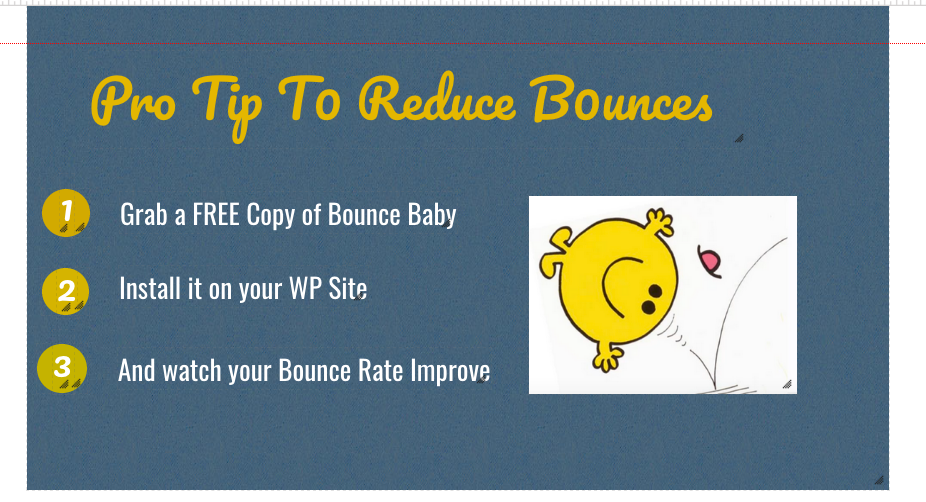 What the Heck is a Bounce Rate?
Let's face it. Google does not like Bounces. Anytime a user visits your site but has no interaction with your site and then leaves, they create a bounce or a visit with no action. Your bounce rate can affect your google ranking. Google considers a Bounce as a negative about your site. Everyone who runs a website gets bounces. Statistically, the may represent 70% of your website traffic. But you can do something to reduce the number of bounces your receive.
One approach is to take some action in order to grab the visitor's attention to keep them on the site and possibly take some action that will convert to a opt-in visitor. One way is to use an exit popup to catch their attention, but this has it's drawbacks. Popups appear on the same page that the visitor is leaving and may not get them to react. Bounce baby senses the visitors exit intent and brings up a totally different page within an iFrame for them to view before leaving your site.
Setting up Bounce Baby is really simple. You create a bounce setting by entering a Redirect Name and Redirect URL that you want to show the visitor when he try's to leave your site.When BB detects that is someone is trying to leave your site. The REDIRECT URL will load a new site into an iFrame. You can select whether to scroll on the page or not. The BB plugin will create a new shortcode that you will use to place into your page or post. You can also setup the bounce redirect setting to set the number of days that will keep the site visitor from seeing the redirect for x number of days.
You can also select to add the bounce shortcode to ever page on your site, or just a specific page by using the shortcode created.
BB will also provide you the statistics for the people who click on your BB shortcode. You will see the Lifetime Bounce Redirects, Today's, Yesterdays, Two Days ago, Three days ago, and four days ago.