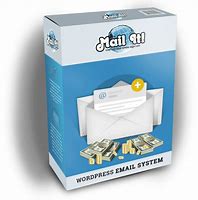 My MailIt Autoresponder

Most of us play by the rules, we have decent open rates, very few spam complaints and by all accounts you're an "Ideal Sender".  Suppose that out of the blue your autoresponder service goes down and you're virtually out of business.  No emails means no business and no reason given by your autoresponder service on what happened.  You're left in the dark.  It would be great if this was restricted to a specific autoreponder service provider, but it can happen with any one of them.
Horror stories abound on the internet about how the major autoresponder services treat their customers,  Some restrict how you import your subscriber list.  Sometimes they will filter out verified subscribers for no reason that you know are spam compliant. Let's face it, they control how our email is handled and who can be on it.
Well there is an alternative!  Brett Rutecky, my favorite code guru, has developed the cloud based, My MailIt Autoresponder and it's about time.  Since My MailIt is cloud based software, setup is pretty straight forward.  There are complete video tutorials built into the dashboard to help you on your way.  Think about it, a professional level Autoresponder sevice with a one-time fee.  No monthly invoices, no up charges when you subscriber list grows and you choose how many and how often you send your emails.  Check out some of the features below;
One time charge for My Mailit
You Choose when and how many emails to send
You choose what's in your emails
No third party crippling your business
You decide what web platform to use
Fully cloud based so no local installation required
Complete video training inside the dashboard
Autnatically filters out invalid emails on import
Minimizes bounces while increasing delivery rates
CAN SPAM SPF & DKIM compliant
Lets your send formatted HTML emails
1-click List Cleaning feature
Direct integration to many other popular systems
Versatile.  Send from your own site or with an SMTP relay
Powerful WYSIWYG message creator
Easily craft engagind emails
Create OPT-IN forms in seconds using drag and drop form tool
Choose from 48 built-in templates or create your own
Easily set up Autoresponse messages
Create unlimited Autoresponder sequences
Full subscriber stats including open, click and bounce tracking