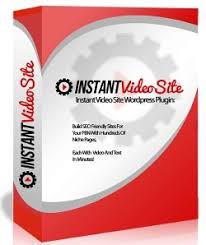 INSTANT VIDEO SITE
Who doesn't want more traffic?
Have you tried linking a niche website to your main money website like a personal private blog network?  Maybe not, but if you wanted to, Instant Video Site maybe the easiest way to get one started.
Instant Video Site is a WP plugin that allows you to enter search keywords and then scan You Tube for videos that are relevant to that keyword.  The videos that are returned are displayed for review and you can select one or all of them for inclusion in your blog posts. The plugin allows you to return either the Description or the Caption (the You Tube provided conversion from the audio content into text) from the video.  This offers you the ability to have original content on the post, remembering that Google really loves natural text.
I'm not suggesting that Instant Video Site be used on your main brand website, but rather to provide links from the niche video website to you main website.
Audio to text conversion returned with the video
You can specify specific keywords that when found in the text will link to a URL specified by you.
You can specify the category to post the returned videos
The plug in automatically pulls out any links to other sites that have been placed in the video
Setting up to create your video site is really simple, you just enter;
Post Category:  The category that all videos will be posted as
To keep from dupliating posts, select "Update" This will update any post you have previously downloaded
Content Type:  Post Caption or Post Description
Search and Replace Words Link to URL:   enter the keywords you select
Popup Settings:  You can upload a popup graphic
Image URL: URL of image to use
Image Link to URL:  Redirect URL
Popup Delay:  The time before the popup appears