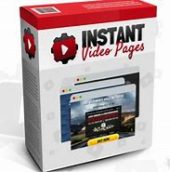 Building video pages used to be a real pain.  But not with Instant Video Pages from Brett Rutecky.
The problem with most video page software is that they are too complicated and the learning ramp is way too steep.  When all you want to do is get a video page up and running on your site, Instant Video Pages can help you get get one done in minutes.
Instant Video Pages is beginner friendly yet still powerful enough for the seasoned veteran. You can use a You Tube video or enter custom video code to connect to your own video library.  You can choose a background from a built in selection or specify your own. In addition, you can add a Call to Action button and a countdown timer for scarcity.
Getting a Video Page up on your site has never been easier!
Specify a You Tube Video or use custom video code to select your own.
Select the background video from a provided selection or enter the You Tube code of your own
Setup a redirect URL to use when the video ends
Add a countdown timer with text to describe the scarcity
Add a redirect button, button color, redirect URL when pressed and button text.
Add custom code such as popups, retargeting code, etc.